Share:
---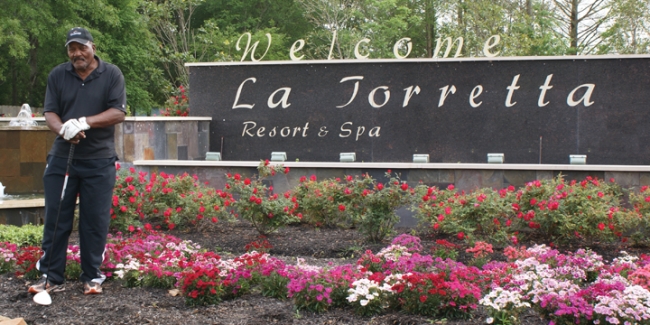 NFL Hall-of-Famer Jim Brown to Host Celebrity Golf Tournament
At La Torretta Lake Resort & Spa Oct. 7-9, 2011
By Todd Wolff
Mark your calendars! Jim Brown, one of NFL's best players of all time, will host a celebrity golf tournament to benefit his charity, The Amer-I-Can Foundation.

The Who, What, Where, When, Why

The Jim Brown Celebrity Golf Tournament will take place October 7-9, 2011 at La Torretta Lake Resort & Spa, a four-star Texas resort located less than an hour north of downtown Houston.

The event will kick off Friday at Chez Roux with a private cocktail and dinner reception. At the dinner reception, event managers from TMG Entertainment will announce which celebrity will join each foursome on the green that weekend. Confirmed celebrities include legends like George Foreman and Bill Russell.

Saturday, teams hit the links for their first day of play on the challenging 18-hole golf course at La Torretta. A total of 20 celebrities and their teams will tee-off to begin a scramble type tournament and let the friendly competition begin.

Later that evening a gala complete with exquisite dining and entertainment will be held in celebration of the tournament and the Amer-I-Can Foundation. The gala will take place in one of the gorgeous ballrooms in the La Torretta 73,000 square-foot conference center. Tickets are available for $150 per person.

Sunday morning kicks off with a breakfast buffet at Prime Restaurant for all the participants to enjoy before the final day of play. Sunday afternoon will conclude with a small award ceremony recognizing the winners of the tournament.

For additional information about La Torretta Lake Resort & Spa, visit www.LaTorrettaLakeResort.com or call 936-448-4400. To purchase tickets for the Jim Brown Celebrity Golf Tournament or Gala, please contact Chelsa Waller at events@tmgintl.com or call (936) 448-3046.

Article Tags: The Amer-I-Can Foundation, Jim Brown Golf Outing
Revised: 08/31/2011 - Article Viewed 21,316 Times
Share Comment
Written By: Todd Wolff

Todd Wolff is a well traveled freelance writer on golf, beer and travel. In 2005, Todd joined GolfTrips.com as the first contributor. When he is not on the links, Todd is brewing his legendary craft beers. In addition, to golf writing he is a world renowned graphic artist who has won numerous industry awards in logo design and product packaging.