---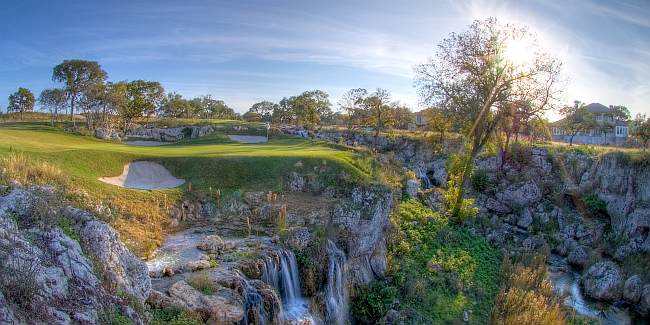 Texas' Cordillera Ranch Ramps Up for Robust 2014 Private Golf Community Selling Season with New Hires
Million-dollar golf home construction at a five-year high

Cordillera Ranch, the Hill Country's premier luxury community - has added associates Eric Metzger and Frank LeBlanc to its real estate sales team this month.

The news comes as the 8,700-acre property prepares for a busy 2014 selling season, following a banner year in home sales, construction starts and memberships recorded through December.

"We've added firepower to the team just in time to meet spring demand," says Barry Denton, Director of Real Estate Sales for Cordillera Ranch. "Inquiries for our three new enclaves, lots and existing homes have exceeded projections - and we're preparing now."

A 20-year veteran in luxury residential communities, Metzger joins the Boerne-based team from Sunburst Marketing Group, serving as principal for its world-wide portfolio. The company has represented several Texas-based properties, most notably Austin's Spanish Oaks.

Metzger moved his family to the Ranch in January, citing the property's stunning views, welcoming community and solid financial standing as its key selling features.

"This is a great opportunity," says Metzger. "I had several options at high-end properties across the country, but chose Cordillera Ranch for both my career and family. This place has an incredible energy that draws a unique following."

LeBlanc, a ranch owner in Blanco, served in sales and management for the Phyllis Browning Company in San Antonio before joining the Cordillera Ranch team. His career has been dedicated to the Texas Hill Country luxury home market.

"It's absolutely gorgeous here," says LeBlanc of Cordillera Ranch. "Its Nicklaus Signature Golf Course, breadth of member amenities and proximity to San Antonio and Austin clearly set it apart from its competition."

The internal real estate team, comprised of six associates, delivers comprehensive insider knowledge of building, owning and enjoying real estate at Cordillera Ranch.

Hilltop, waterfront, and ranch-style lots with stunning views complement the property's lock-and-leave villas located within walking distance of the expansive 40,000 sq. ft. clubhouse. The vast portfolio features lots ranging from $80,000 to $600,000 and homes from $500,000.

Current releases include three new enclaves - the Di Lusso II villas, the active-lifestyle area of the Springs at Cordillera Ranch, and the Clubs Village home sites of Bears Ridge. A limited number of golf course frontage lots will be released in March 2014.

More than 1,000 lots have been sold since the property broke ground in 1997. Interest in home sales has risen consistently, most notably since the clubhouse was added in 2006. The social heart of the property, it comprises the Jack Nicklaus Signature Golf Course, member dining facilities, a full fitness center, in-house spa, locker rooms, special event rooms, member lounge, four outdoor pools, and golf shop.

While membership is not required of homeowners, over 600 families currently enjoy a wealth of outdoor pursuits through its seven signature lifestyle clubs, including Golf, Rod & Gun, River, Equestrian, Spa/Athletic, Social/Dining and Tennis/Swim.

For more information: www.cordilleraranch.com, 888.66.RANCH.


News Source: Buffalo Communications.com
Posted February 27, 2014 || Viewed 2,757 times
Share Comment