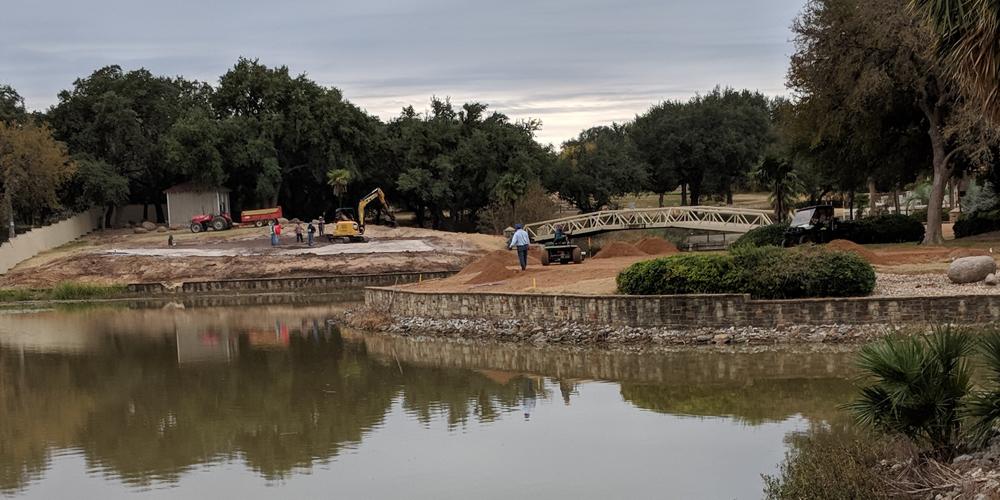 Texas resort Horseshoe Bay figures to cash in on big-money upgrades
By Len Ziehm
This is good news for all of golf. Major new construction, renovations and upgrades aren't just being done in the Missouri Ozarks. Not by a long shot. Other golf destinations - especially in Texas - are taking on expensive projects as well.

Granted all the projects undertaken by the visionary Johnnie Morris in Missouri - latest are just-opened Ozarks National and the under-construction Tiger Woods design, Payne's Valley - are the most eye-catching, but Horseshoe Bay Resort in the Texas Lake & Hill Country is making some noise, too. So is Barton Creek, a Texas resort less than an hour's drive from Horseshoe Bay.

The big spending at Barton Creek is mainly on its lodging options. Horseshoe Bay is upgrading most everything and the results figure to be rewarding. They've already elevated the resort's profile.

Did you know that the last two Masters champions - Sergio Garcia and Patrick Reed - are members at Horseshoe Bay Resort, which is located near the bigger town of Marble Falls. Anthony Holder, the resort's director of golf, mentioned that only in passing - and after being asked a basic fact-finding question about membership.

Most any place else a connection with two such prominent players would be put out front and center by a club blessed to having them as members, but in this Texas Lake & Hill Country golf is different.

Horseshoe Bay has operated since 1971 with three courses designed by Robert Trent Jones Sr. He's the late father of today's prominent architects Robert Trent Jones Jr. - the name attached to Alabama's popular golf trail - and Rees Jones, who gained the moniker of "the Open Doctor' for his frequent callups to get courses ready to host major championships.

Jack Nicklaus designed the fourth course at Horseshoe Bay. It opened in 2012 as a private club that is rarely made available to resort guests. Nicklaus' course is called Summit Rock. The three Jones designs are Slick Rock, Ram Rock and Apple Rock and Ram and Apple are operated together under the title of Cap Rock.

There's a lot of Rocks, to be sure, and nobody could quite explain why. What was explained in detail by Holder and director of agronomy Ken Gorzycki was the ambitious plans the resort ownership has for the future. That future isn't far away, either. Holder said the golf aspects of an overall $70 million renovation should be completed by July of 2019.

"Our goal is to be the No. 1 golf resort in the state of Texas, and eventually expanding that to the nation,' said Holder. "With that comes the updating of your facilities, making sure we can deliver. Our ownership has put a wad of money into all the touching points.'

Holder grew up in Dallas before spending 14 years at prominent California destinations Mission Hills, Indian Wells and PGA West. He's been at Horseshoe Bay just a year but is already caught up in the enthusiasm for what's been happening there.

Horseshoe Bay has basically had just two owners. Norman Hurd and his cousin, Wayne, got the resort started in 1971. Morris D. Jaffe has been the owner since the mid-1990s and he more recently has gotten an investment partner, IBC Bank. That enabled all the upgrades to be tackled in relatively short order.

Slick Rock, which opened in 1971, is the most user-friendly and most heavily played of the courses. It also has the resort's most famous hole - the par-4 14th which plays anywhere from 236 to 361 yards. This eye-catcher is called "the Million Dollar Hole' because of the elaborate 35-yard waterfall that greets players at the tee. They have to clear the waterfall with their drives, then get to see the attraction up close when they drive past it to their approach shots.

The renovation of Slick Rock was completed in the spring of 2016. The renovation of Ram Rock, the second course to open at the resort in 1981, was a $3 million project and required the most work. It was completed in May of 2018.

"It was our least-desired golf course because it was so hard, the greens were small and it was heavily bunkered,' said Gorzycki. "It was considered as the hardest golf course in the state, and we made changes to make it more playable for higher handicap players. Those changes have been extremely well received.'

The Bermuda grass on the greens was replaced by 007 bentgrass and diamond zoysia collars were installed around the greens to keep Bermuda from creeping into the bentgrass. The practice was part of all three renovations. So was the extension of cart paths.

Because of the invasion of the Bermuda on the greens at both Ram Rock and Apple Rock had been shrinking dramatically.

"A lot of greens had no hole locations left,' said Gorzycki.

While the greens were being expanded the bunkers were restored to the size and appearance that Jones had originally created. To make sure of that Robert Trent Jones Jr. - son of the original architect - was involved in the renovation.

"He helped us with the process to maintain the integrity of his Dad's designs,' said Gorzycki. Austin design consultant Mark Voss was also involved in that process.

Jones Sr. was an architect well ahead of his time. His work at Horseshoe Bay is a testament to that.

Apple Rock, the prettiest of the Jones courses, opened in 1986 and has the best water views. Lake LBJ will impact the layout at the 11th and 12th holes. The in-process renovation, a $2.5 million project, is to be completed by May 1.

Like Ram Rock, the putting surfaces were extended. When the renovation began the course had less than 65,000 square feet of greens. When it re-opens it'll have up to 87,000 - which is slightly more than Ram Rock's 84,000.

When Apple Rock opened it was selected the No. 1 new resort course in the nation by Golf Digest. That came in the heart of the golf boom, so the accomplishment was particularly noteworthy because many courses were under consideration. (Summit was similarly honored, but the boom had subsided by then and only two or three other courses were considered for the honor).

As part of the renovation work the bunkers included new drainage and the overall sand area became 40 percent less than what it had been.

Horseshoe Bay also has the most impressive 18-hole Whitewater Putting Course, which surrounds the 360 Sports Bar. Whitewater is all grass and is set apart from other such courses around the country in that the scorecards givs measurements to each hole in yards, not feet. The whole course is 1,712 yards so obviously some putts are really long ones.

"The ownership sees the potential of this area and wanted to sink its teeth into it, to see how far it can go,' said Holder. "Not a lot of properties can offer the array of amenities that we can. This opportunity has a lot of upside, and they have seen a return on their investment so far.'

The recent financial support has also led to the building of two clubhouses. It's not all done yet, but the end is near. The clubhouses need just a few more months and Apple Rock is the last course to get renovated. The work there is scheduled to be done by May 1, 2019.

When all is said and done Apple Rock and Ram Rock will share a new clubhouse, pool, cabana, pro shop, pavilion and indoor-outdoor addition to their practice range. A new clubhouse will also be built at Summit Rock. Hotel room upgrades have already been completed.
Revised: 01/16/2019 - Article Viewed 11,480 Times - View Course Profile

About: Len Ziehm
---
My 41-year career on the Chicago Sun-Times sports staff ended with my retirement on June 30, 2010. During that stint I covered a wide variety of sports, but golf was a constant. I was the paper's golf writer for 40 years, during which time I covered 27 U.S. Opens, 10 Masters, 17 PGA Championships, four U.S. Women's Opens and the last 34 Western Opens in addition to a heavy load of Chicago area events.

For 20 years I was a columnist for Chicagoland Golf, a newspaper that suspended publication following the death of founder and good friend Phil Kosin in 2009. (This is not to be confused with the publication of the same name which was introduced in 2013 after being known as Chicago Area Golf for three years). I also contributed a chapter to a history book on the Solheim Cup and have been a member of the selection committee for the Illinois Golf Hall of Fame.

As a player I remain just an avid hacker with a handicap that never has dipped below 16.

---
More Articles by Len Ziehm