Share: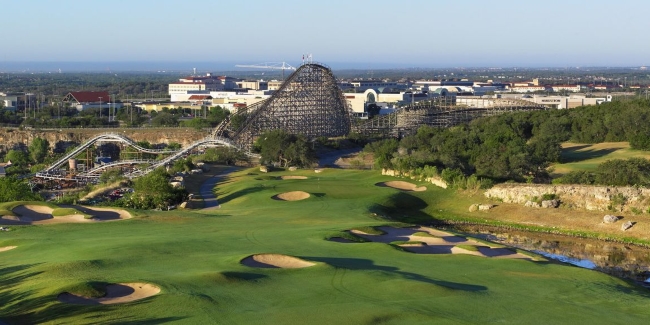 San Antonio's La Cantera offers Top-Shelf Golf and Accommodations
By Steve Habel
The South Texas city of San Antonio is a melting pot of cultures, history, attractions, cuisine and accommodations and is one of the best - and still seemingly underrated - places to visit in America. It's also a haven for great golf.

From its downtown River Walk to the historical Spanish missions scattered within and around the city to its oh-so-hip Pearl Brewery district, the Alamo City is a vibrant experience.

Above it all, quite literally, on the city near-northwest side, is the La Cantera Hill Country Resort, whose gleaming, recently renovated 498-room hotel is perched on a hill that's the highest point in San Antonio, affording 30-mile views when the air is clear.

The resort's expansive multi-million dollar transformation (which continues as I write this story) has been carefully designed to elevate guest experiences and to create truly unforgettable discoveries. Included in the facelift are completely redesigned resort and adult pools including private cabañas, re-imagined dining concepts and a re-designed lobby that is sophisticated, yet relaxing.

I've always been a fan of La Cantera and I've likely stayed at the resort 25 times and played its two golf courses, designed by Tom Weiskopf and Arnold Palmer, respectively, perhaps twice that number, each.

The golf here has continuously been great and has always been the draw here. And the upgrades made to the resort by Englewood, Colo.-based Destination Hotels & Resort, who took over the management of the property in December 2013, have turned the place into a world-class destination. If I'm going to San Antonio, you'll probably going to find me checked into La Cantera - it's one of my favorite places to stay anywhere any time.

The La Cantera Hill Country Resort, is a 1,600-acre master-planned development that includes two championship 18-hole courses, a gorgeous hotel built in 1999 and modeled after famous King Ranch's "Big House", two stunning clubhouses and an academy of golf to help hone the golfer's game.

La Cantera has consistently been ranked one of the best resorts in America by Golf Magazine and hosted the Valero Texas Open from 1995 to 2009 on its Resort course, made famous by its awe-dropping elevation changes.

Both of La Cantera's golf courses are supreme in every sense of the word. The Resort Course, designed as the final work of the team of Weiskopf and Jay Morrish while the Palmer Course, fashioned by (you guessed it) Arnold Palmer, with help from longtime collaborator Ed Seay, is among the most challenging tracks you can play in San Antonio or anywhere.

The Resort Course opened in 1995 and offers a handful of natural water features, 75 sand bunkers and an up-and-down ride that sports half-a-dozen holes with panoramic views of the city and the surrounding Hill Country. Its beauty and challenge are created with rock outcroppings, running streams, mature trees and holes that work their way through and over land that was once a stone quarry.

Players never forget the thrill of teeing it up at the Resort Course's seventh hole - a severe downhill par-4 whose green seems to lie just beneath that main rollercoaster of the Six Flags Fiesta Texas theme park and is perhaps the city's most famous individual golf hole.

Located just down the street from the hotel, the Palmer Course was built and added to the La Cantera family in 2001 and features a variety of holes touched with dramatic waterfalls, beautiful views and mind-blowing landscape. Playing to a par of 71 at 6,926 yards from the tips, the Palmer Course is full of blind tee shots, carries across canyons and up-and-down and sideways-sloped shots.

No. 18 at The Palmer Course is a spectacular par-4 finale that plays 490 yards and slightly up and then down an 80-foot slope, providing incredible views of the clubhouse and waterfall-fed lake.

The main difference between Resort Course and the Palmer Course at La Cantera is that the Resort Course has many more open fairways and not as many blind shots. Even though the Resort Course is the one that formally hosted the PGA Tour's Valero Texas Open, it is much more playable for the average golfer than the Palmer Course.

There are times on the Palmer Course that you will feel like you are standing at the highest point in San Antonio as you look down at the city in the distance, the holes from the adjacent Resort Course below your feet and jets flying into the nearby international airport whizzing by you on seemingly an equal plane.

Having two golf courses allows La Cantera a great deal of flexibility in booking. The resort can accommodate certain requests for tee times and can place groups on a certain course based on information gathered ahead of time with regard to players' skill levels.

Fun and fair, the La Cantera Hill Country Resort pulls in players with thrill-packed golf, first-class service and amenities. That's a great mix for all involved.

Revised: 02/19/2016 - Article Viewed 29,942 Times - View Course Profile

About: Steve Habel
---

Steve Habel is a contributing editor for GolfTrips and its associated websites. A 26-year industry veteran, he regularly contributes to various regional, national and international golf publications and has played and written about more than 1,600 golf courses around the world.

Habel is also senior editor for Horns Illustrated magazine, a publication focusing on University of Texas sports, as well the San Antonio Spurs beat writer for The Sports Xchange. He is a correspondent for the Austin American-Statesman and frequently files stories and features for The Associated Press and Preferred Lifestyle magazine.

Habel, who lives in the Austin, Texas area, has worked media coordinator for World Golf Hall of Fame player and golf architect Tom Kite as well as for renowned golf architects Roy Bechtol and Jeffrey D. Brauer.

He is a member of the Golf Writers Association of America, the Texas Golf Writers Association and the Football Writers Association of America.

---
More Articles by Steve Habel