Share:
---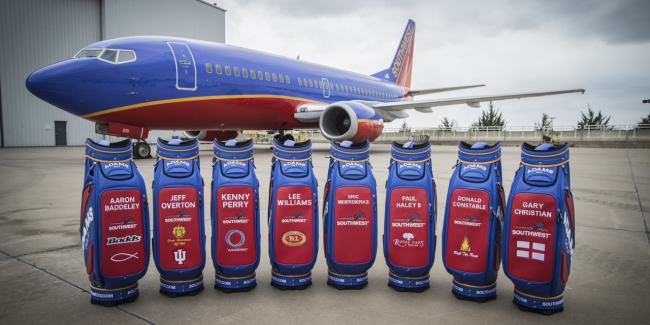 Southwest Airlines and Adams Golf Hit the Links with New Partnership

As the "Official Airline of Golf Lovers," Southwest Airlines (NYSE:LUV) teed off a series of initiatives building on its commitment to those who love the game of golf. In addition to a new and exciting partnership with Adams Golf, maker of the #1 Hybrids on the PGA Tour, Southwest, the airline where golf bags fly free*, launched www.southwest.com/golf, making it the only airline with a dedicated golf landing page, featuring great fares to popular golf destinations, golf vacation packages, the ability to book tee times at more than 5,000 courses nationwide, and the opportunity to purchase golf merchandise and unique golf experiences using Rapid Rewards points.

In celebration of Southwest as the "Official Airline of Golf Lovers" and the launch of www.southwest.com/golf the airline is offering a golf-themed fare sale. The sale, today through Thursday, March 29, offers special fares between select business and golf destinations. See www.southwest.com/golf for details and rules.

"Southwest connects its Customers to the things that are most important to them in their lives and for many of them, one of those things is the love of the great game of golf," said Dave Ridley, Southwest Airlines' Senior Vice President of Business Development. "We are an airline that never stops looking for a better way; that passion for constant improvement is shared by golfers at all levels."

Southwest's partnership with Adams Golf centers on its sponsorship of Adams PGA Tour staff players who will carry co-branded bags for the rest of the 2013 season. The bags are designed in the signature blue and red colors of the Southwest aircraft livery. In celebration of this partnership, Adams launched the Easy Million Rapid Rewards Promotion. The campaign offers new and current Rapid Rewards Members the chance to win One Million Rapid Rewards points, while also increasing yardage with the latest and greatest Adams equipment.

"Just as Southwest has opened the skies and made air travel accessible to more Customers; Adams has made the game of golf more accessible through their innovative equipment." said Ridley. "Both companies are about growing their respective markets through easy-to-use products and services, creating a natural tie between the two brands."

"Adams' philosophy on creating easy-to-hit golf clubs that promote a fun and friendly experience ties right in with Southwest's mantra, which has led to a top ten ranking on Fortune's Most Admired Companies list," said Scott Blevins, Adams Golf Senior Vice President of Sales and Marketing. "Through Easy Million, our new award-winning SUPER product line will deliver One Million yards of distance gains this year, with Southwest commemorating the milestone by rewarding one lucky winner one million Rapid Rewards Points."

Southwest and Adams Golf debuted their partnership yesterday on the Golf Channel during Morning Drive .

* Subject to 50 lb. weight limit and two free checked baggage allowance.

Posted March 26, 2013 || Viewed 3,767 times
Share Comment